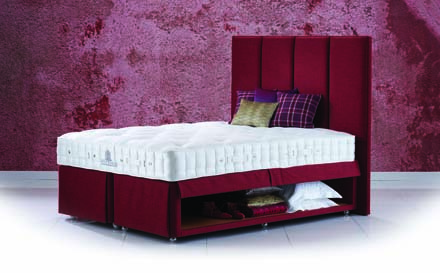 Celebrate National bed month by giving you bed an "MOT"!

The logo for this year focusses on "Wake up on the Right Side" which ensure customers obtain good buying advice and find the right bed for their needs. Also included this month is ensuring customers understand how to look after their bed and therefore prolong it's lifespan. Did you know that 41% of mattressess are replaced in five years or less and that a third say the reason for this is that their bed is 'worn out' and 21% say that they find their bed uncomfortable.
So what should you be doing when going shopping for a new bed - yes "going shopping" - never buy your new bed online! You need to try the bed, relax upon it as you would at home and get good, knowledgeable advice as to whether the bed is right for you, your partner and your sleep patterns.
Check the size you need, obviously this will depend upon the size of your bedroom but we always advise customers to go for the largest bed their room will accommodate. With sizes varying from single bed, three quarter bed, double bed, king size bed up to super king size, there is a size for every room.

When you visit a bed store don't be in a hurry. Allow enough time for firstly look at the beds, listen to the sales person's advice and ask questions. Then narrow you search down to 2 or 3 which you need to lie on for a least 5 minutes - and not just on your back, try to lie as you would at home.
Remember, you spend a third of your life in you bed so do not compromise when it come to choosing the perfect bed for you!